As a mother of six active children, I'm always on the lookout for time savings tips, and I'm not above trying a housework cheat or two. There are so many things I'd rather be doing than scrubbing the kitchen floor on my hands and knees like say… anything. And if I can save a few dollars in the process, well I'm euphoric.
Tip Number One – Wash Clothes and Dishes without Soap
A few years back a neighbor was selling these plastic balls that she told me where full of special ionized water. When added to a dishwasher or washing machine, clothing and dishes came out sparkling clean without the use of detergent.
I was skeptical, but agreed to give them a try. On a Saturday morning I set up my own scientific test. I washed three loads of clothing, one with regular detergent, one with the ion balls and one without adding anything at all. Per her instructions I pretreated all stains before washing them, and amazingly enough all three loads came out pretty much the same. The dishwasher experiment was equally as surprising.
Needless to say I returned the ion balls, but it gave me serious pause to think that plain hot tap water just might be the best cleaning agent of all.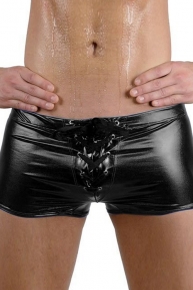 Tip Number Two – If You Can't See it, It's Not Dirty
This is a trick I learned from my twelve-year-old son who is a master at hiding the entire contents of a dirty room in such a way as to make them disappear. He's discovered nooks and crannies in his room that I hadn't imagined even existed. One time he managed to cram all of his dirty clothes behind the sheetrock through a hole in his wall. We weren't any wiser until strange smells began to fill his room without any noticeable cause.
Now I don't recommend hiding dirty clothes for extended periods of time, but I have been known to grab a laundry basket and sweep everything on the surface of a cluttered table inside, before stowing it out of sight. This works well when my mother-in-law calls to say she's in the neighborhood and wants to drop by.
Tip Number Three – The Occupied Bathroom Ruse
We have three bathrooms, one of which is the exclusive domain of the boys and upon passing through the door you'd have no doubt about the truthfulness of this statement. It badly needs a new paint job and flooring, especially in the vicinity of the toilet, but we've decided to wait until the last guy's a little older before investing the money to redo it. In the mean time though the guys aren't bothered, I'm hesitant to have someone walk in there accidentally.
My trick is to simply lock the door before guests arrive, then direct those that ask to one of the two other facilities. Should someone decide to investigate on their own and find their way to the bathroom of terror, the door will be locked and they'll be left to assume that the restroom is already in use by someone with a serious and possibly smelly bowel condition. For the rest of the visit they'll be secretively searching the faces of everyone else in the house, looking for the poor victim.
Tip Number Four – Smell the Laundry Before Washing
A few years ago I went on this kick of riding the kids to clean their rooms. I would scrutinize the furniture and floor each night before bed, and if the room wasn't up to my exacting standards I'd make the negligent inmate arise from the comfort of his or her cot and finish the job. It only took a few of these nightly inspections before the kids got the idea and made sure their rooms would pass muster before retiring.
A few days later I noticed a sudden and unexplainable influx of laundry coming through. At first I thought that it was a backlog from all the weeks of sloppy bedroom upkeep. But after a week when the volume didn't diminish I began to get suspicious, and it was then I noticed how many folded shirts and pants were showing up in their dirty clothing piles. I washed several swimming suits, even though it was the middle of January and there was at least three feet of snow outside, and socks that hadn't fit my youngest for at least two years where coming through the dryer with frightening regularity.
The following morning I got up early and hung about the hall watching my children get ready for school. Sure enough as each opened a drawer they would throw five or six outfits onto the floor before located something they liked. Blouses and skirts were knocked off of hangers, and one little boy emptied half the underwear drawer until he found a pair with Spiderman swinging across the back. No doubt by tonight, all these clean cloths would be scooped up and unceremoniously deposited on the laundry room floor.
Now, I employ the famous sniff test on all questionable suit underwear, which has saved me hours of time, and probably gallons of detergent free water. It's simple really. If a piece of clothing looks questionable, I take a quick whiff. If it smells like lavender, orange blossom or spring morning fabric softener, it goes back to the room and if it smells like… well anything else, into the wash it goes.