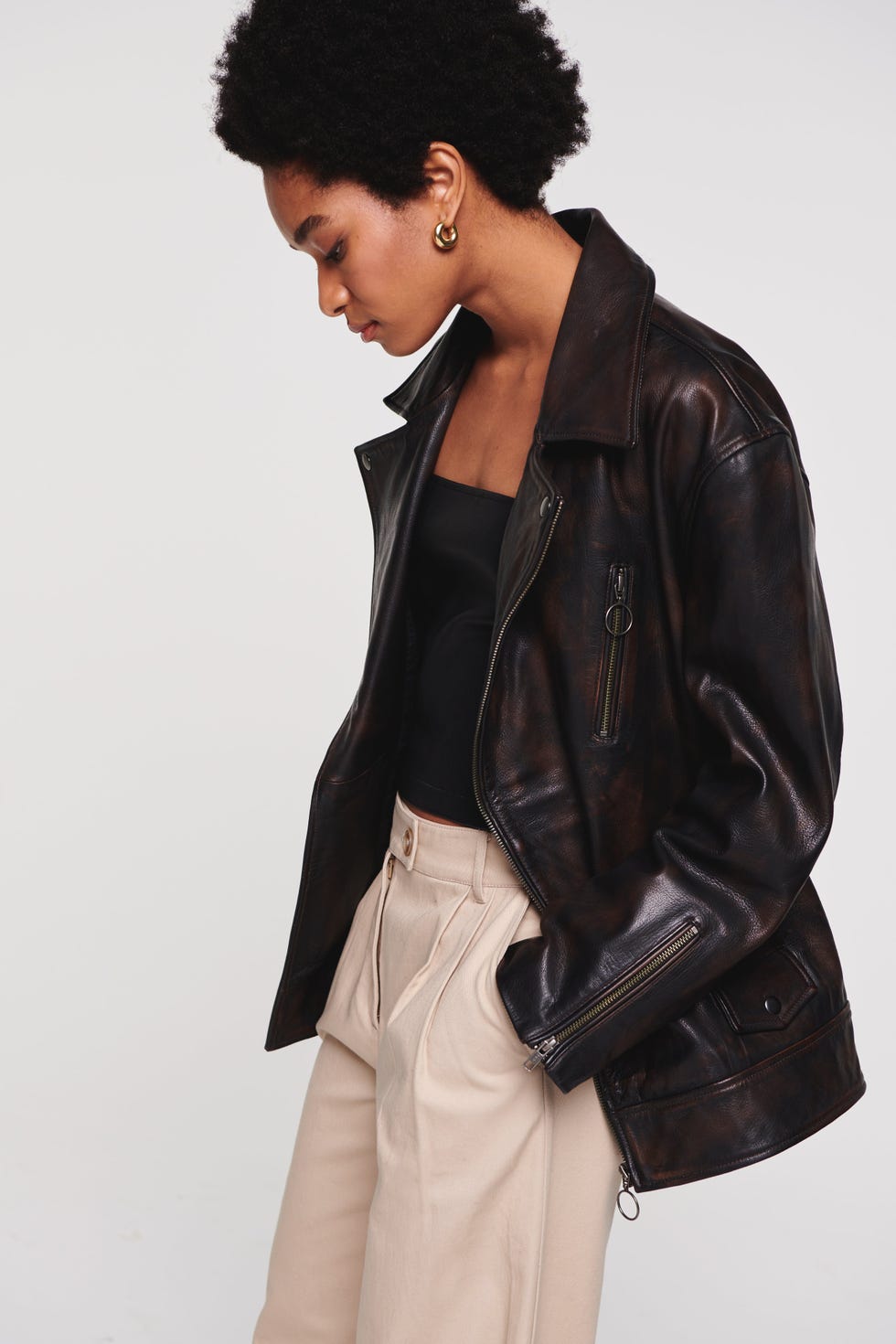 A good quality leather outfit is one of the most expensive clothing items you can include in your wardrobe. This piece never fails to look fashion-forward, and every woman must have it in their closet. Leather is the ideal fabric to look tough, no matter how feminine you are.
Feather Turtleneck And Black Leather Pencil Skirt
This look can be worn to a meeting, on a lunch date, or if you are going to give an interview. Everyone should own this librarian looks. Turtleneck is a clothing piece that will always make you stand out and look beyond the ordinary. Add a black leather pencil skirt with that – it will give you the confident walk you have always imagined about.
· Peasant Top, Jean Maxi Shirt, And Cognac Leather Jacket
This is a country girl look that is more adorable than edgy. This look will make you look studious and, at the same time, very fun and joyous. Wear a jean maxi skirt over cowboy boots and a modern leather jacket over a peasant top to create the perfect leather look.
· Leather Pants, Tank, And Blazer
This versatile look can be worn during business meetings and date nights. Wearing a tank over leather pants can make you look adorable, but you can make it a standout and confident look with the right color blazer.
· Black Suede Fitted Pants And Black Lace Top
Add a touch of romance to your Leather looks with a black lace top and a red velvet clutch. Instead of pairing a tank with black leather pants, use a lace top to create a contrasting but stunning look.
· Leather Pants And Sheet Striped Blouse
The sheer is chic and perfect. Add a blazer or jacket over the sheer shirt and leather pants to create a daring and edgy look.
Do you feel more confident when you show off your perfect curve or abs? You can do that this look. A knit mid-top is fitting as long as you add a cardigan over the mid-top. Add a flare leather skirt to this look to make it look edgy, academic, and chic at the same time.
· Black Animal Print Sleeveless Top, Blazer, And Leather Pants
Leather pants are always hot But, what's more – leather shoes, lace-up leather ankle boots, and a leather clutch will give you a chic and expensive look. It's an all-over-winning look. The dark animal print is also an eye-catching choice. It offers some mystery to the look.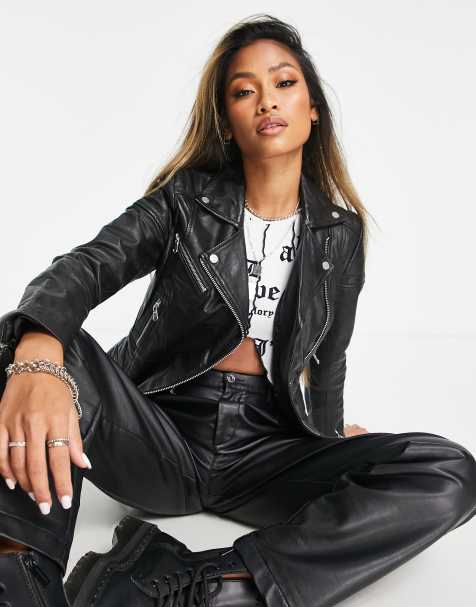 · T-Shirt, Jeans, And Cognac Leather Jacket
You don't need to change your entire style. Just throw a leather jacket over your everyday t-shirt and jeans to make you look more edgy and confident.
· Leather Mini Skirt With Slit And Leather Halter Mid-Top
This look is certainly more on the skimpy side. However, any all-leather outfit still seems more appropriate, especially for winter. Also, you can include some leather boots and opaque tights for this look. You can make it expensive by adding a fur coat to make it hot and edgy.
You can incorporate leather into your daily wear in several ways. One stunning leather outfit idea is to pair a flowy dress with a leather jacket; it is both feminine and edgy. Wear a simple tank or tee with a leather skirt or pants. To create a standout look, pair leather with something unexpected.