Is there anything better than a beautiful outfit? Yes, there is actually and it is a beautiful outfit with suitable accessories. And today we have a specific type of accessories in mind – as you can already conclude by the title those would be earrings. There are a lot of types of earring out there but of course we are going to help you out and point into the right direction because you would love to wear modern earrings, right?
You should not worry because we are here to show you some of the earrings you need to know about:
NORDSTROM GOLDEN CHAIN EARRING – The chain trend is something new and something huge this season. Chains are implemented everywhere – earrings, necklaces, bracelets, belts and so on. Throw on a these earrings and you are ready to rock this autumn with style.
MEJURI LARGE HOOPS – Hoop earrings never seem to leave the runways, but get ready to see them multiply in size this season. As bigger they get the more trendy they are. You can of course even combine pearls trend with hoops trend and wear hoops with pearls attached. No matter what, if you decide to wear pearls of any size it won't be a mistake.
SHOPBOB CHAN LU EARRINGS – Pearls somehow seem to come back almost every year. It is quite an ellegant piece of jewlery to add to your collection. Pearls are not only popular as earring but as necklaces and bracelets as well. These ones have a touch of gold tone and are perfect finish for dressy and casual looks.
ANA LOUISA SAFTEY PIN EARRINGS – clothing pins as jewelry – yes you read that well! Clothing pins are really being used as jewelry! It doesn't matter are those earrings or necklaces. Throw on a perfect clothing pen and be trendy. These ones are from Ana Luisa – they used a hundred percent recycled sterling silver to make them. Their jewelers use in-house plating, rather than outsourcing to places with dubious working conditions so they are a really conscious brand.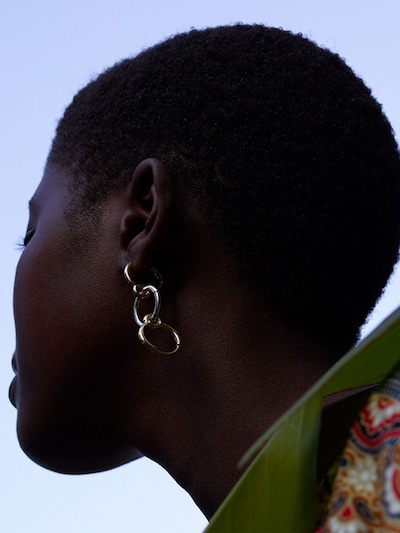 LUISAVIAROMA CHARLOTTE CHESNAIS SINGLE EARRING – Earrings are going solo this season. The single earring look dominated Spring 2020 runways. Go for an earring that's statement-making enough to stand on its own. This cutie is a 18k gold plated sterling silver. You will definitely be noticed when wearing this trend considering how unusual it is.