Wearing the color purple, for some people, is not easy: in fact, in many cultures, purple is associated with bad luck. Although it has ancient origins and evokes deep symbologies present in various religions, it has often been little appreciated. It is also used as a representative color of the union between man and spirit.
If until a few years ago celebrities and It girls would never have thought of wearing this very particular shade, today things have definitely changed. Purple has found its place not only in fashion but also in the star system and is flaunted on the red carpets.
In this post we decided to talk to you about some useful tricks to wear and match purple at best, revealing which colors it goes perfectly with. Are you curious?
FOR A FEW YEARS PURPLE HAS BEEN CONSIDERED SUPER COOL IN THE FASHION WORLD
For some time now, purple has been cleared in the fashion world, starting in 2018 when Pantone elected UltraViolet as the color of the year, a vibrant and trendy shade. From make-up to high fashion, this color has finally found its place on the red carpet as well.
If, until a few years ago, the stars of the show were afraid of wearing this shade, today it is much loved and also widespread in high fashion. This color is very versatile, suitable for both women and men.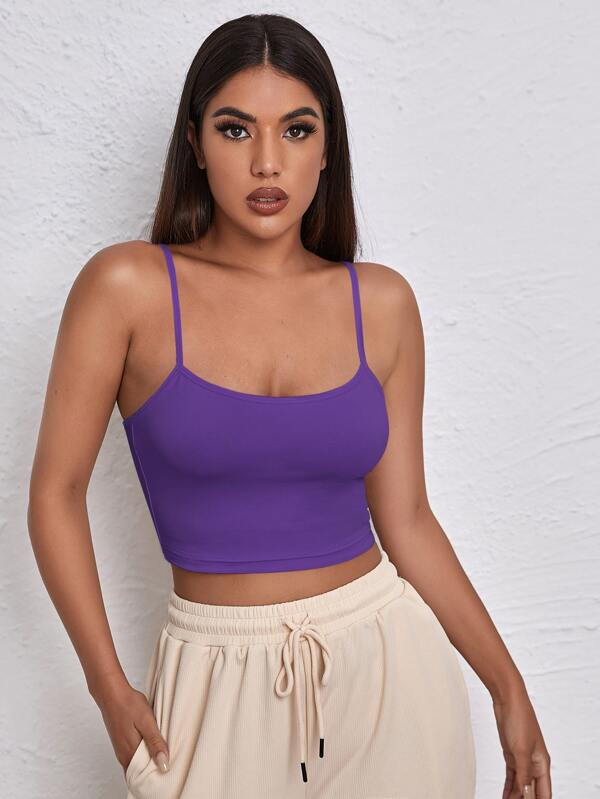 It is also perfect for various types of complexions from the clearest and most lunar ones, to which it gives a touch of mystery, to the warm and golden tones, of which it highlights its depth. The secret is simply to understand and choose the shade of purple, from lilac to aubergine, that best matches your complexion.
PURPLE AND DENIM FOR A URBAN CHIC STYLE
Among the most timeless fabrics, denim certainly has its leading role. Light, dark, with washes or tears, it has always been an integral part of fashion and certainly one of the protagonists of urban style.
Light blue denim – or jeans – is the perfect companion for your purple outfit. Its delicate nuance perfectly matches this particular shade and in all its variations, from lilac to aubergine.
To complete the look, you can wear a white t-shirt or some red details, to give an additional dose of glamor to your outfit. Our recommended look: purple skirt, oversized light denim jacket, and fire red ankle boot.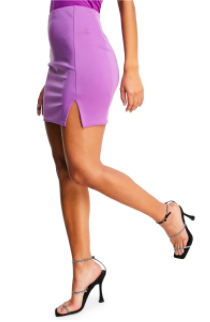 PURPLE AND YELLOW FOR A SPRING LOOK THAT DOESN'T GOES UNKNOWN
Yellow has been consecrated as a trendy color and in recent years we have admired it on some of the most beautiful celebrities in the world who often wear yellow dresses: just think of the elegance of Amal Clooney at the royal wedding of Harry and Meghan Markle.
This color, complementary to purple, is perfect for creating an ultra-chic combination, the only rule is not to add other colors to this outfit to avoid falling into too flashy. Try wearing a yellow shirt and purple pants, for accessories only black shoes and bags, preferably in patent leather.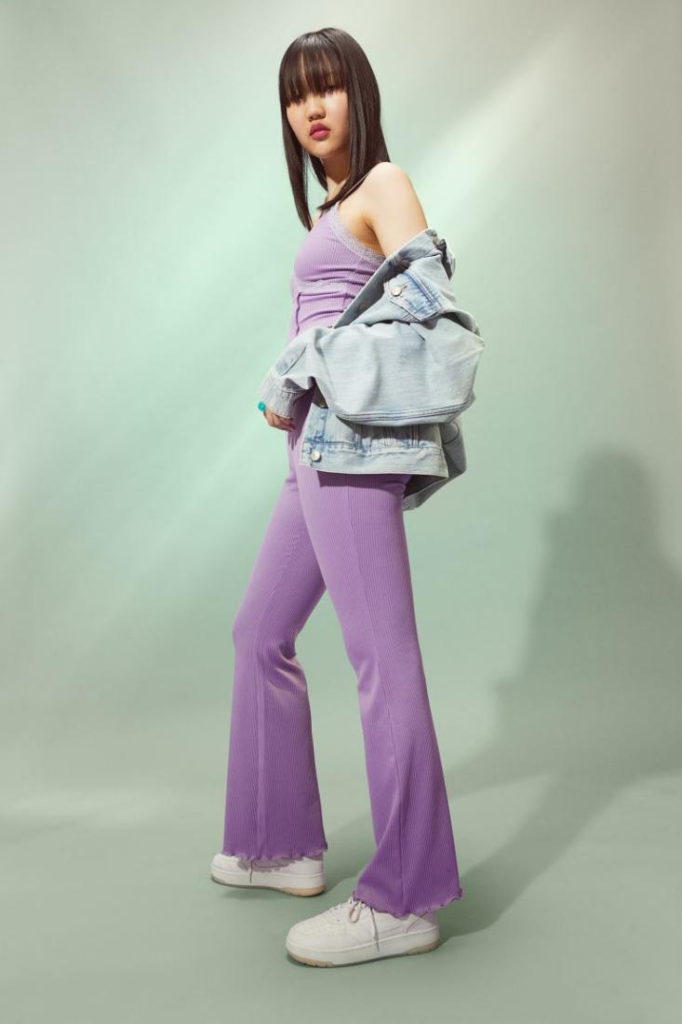 PURPLE ON PURPLE FOR A VERY STYLISH TOTAL LOOK
Does the purple-on-purple combination make you twist your base? We are sorry to contradict you, but the purple total look is absolutely fabulous, sophisticated and to show off with confidence.
One-color outfits are one of the trends of the season and you can feel free to decline them in every shade, wearing your favorite color, be it purple or another.
The final effect is truly beautiful: our advice is to try to combine a suite plus shirt plus shoes, all strictly purple!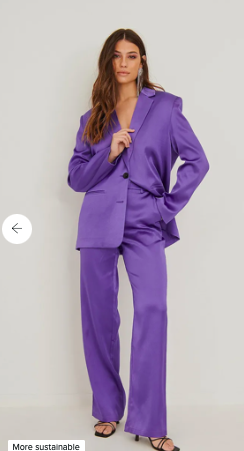 PURPLE AND RED, A LOVE THAT LASTS ALWAYS
Finally, how not to mention one of the most famous and winning combinations ever to wear purple with style: red and purple.
This combination is certainly one of the most loved by stylists and in the history of fashion. Yves Saint Laurent made it a must, combining purple and red and creating looks that have become a style icon.
So feel free to take inspiration from the masters of fashion and create your ideal red and purple look: by combining garments and/or accessories, the result will certainly be breathtaking!