CASUAL MID-SEASON LOOK, THE MOST VERSATILE, TO WEAR ON ALL INFORMAL OCCASIONS
Let's immediately start discovering the most versatile looks ever, those to wear on any informal occasion.
We offer you outfits made by combining blazers and jeans, the perfect combination to be very comfortable and glamorous at the same time.
How to go from a casual mid-season daytime look to an evening look in one step? Take off your sneakers and put on a pair of heeled ankle boots!
ELEGANT MID-SEASON LOOKS, TO BE COMFORTABLE AND AT THE TOP EVEN DURING IMPORTANT EVENTS
Let's move on to the elegant mid-season looks, so as not to be caught unprepared even during the most refined and important occasions.
Taking just a quick glance at the spring-summer 2022 fashion collections and also at the 2022 formal dresses, you realize that monochromatic jackets and trouser suits are a real trend.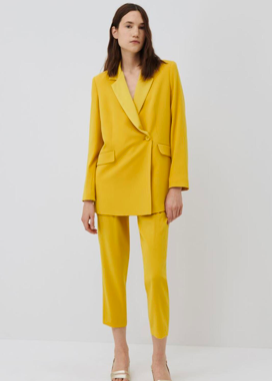 https://www.mcelhinneys.com/women/shop-clothing/tailoring/marella-cuneo-belted-blazer-yellow/
Another elegant and formal mid-season look is the jumpsuits, present in the fashion collections in different types. For spring and the change of season, we recommend suits with half sleeves or three-quarter sleeves, certainly suitable for spring temperatures.
OUTFIT FOR THE MIDSEASON TO WEAR IN THE OFFICE, AMONG HIGH-WAISTED TROUSERS, BLOSSOMS, AND TRENCHES
And for the office? The first one we recommend is made up of high-waisted trousers, very comfortable and suitable for slimming the figure, and one of the trendiest spring 2022 overcoat models, such as a nice coat with a light fabric or a classic trench coat, perhaps colored.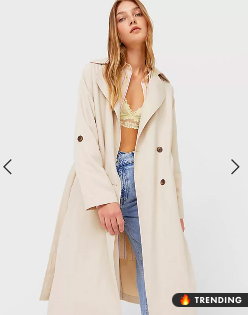 https://www.asos.com/us/stradivarius/stradivarius-trench-coat-in-light-stone/prd/200610124?clr=neutral&colourWayId=200610125&cid=15143
For the milder days, we offer you another mid-season look for the office with jeans and a blouse or jeans and a blouse.
WHAT TO WEAR IN THE MID-SEASON FOR YOUR LEISURE, TO BE COMFY & TRENDY AT THE SAME TIME
While it is true that it is important to choose looks for elegant occasions, it is equally useful to know about mid-season looks for free time, to wear for an aperitif with friends, a day of shopping, and so on.
We offer you a colorful look, consisting of a leather jacket or colored leather effect jacket and colored jeans, perhaps tone-on-tone.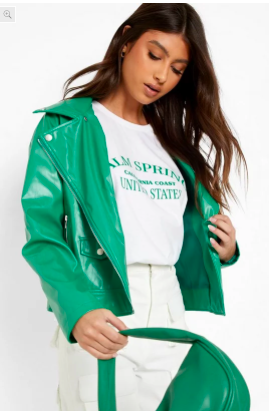 https://us.boohoo.com/collared-faux-leather-biker-jacket/FZZ37402.html?color=130
Another type of outfit to focus on combines garments with different styles, namely the cardigan, simple and chic, with ripped jeans, decidedly casual.
Greenlight also for total denim outfits: denim, in fact, is a perfect fabric for the change of season, neither too hot nor too cold.
MIDSEASON LOOK FOR SCHOOL: THE REAL STARS ARE THE COLORED SUITS AND JOGGERS
For mid-season looks for school, the watchword is only one: comfort!
Yes, girls, being comfortable at school is really essential to feel at ease during class hours and, above all, during tests and homework. The ideal solutions are colored tracksuits and joggers!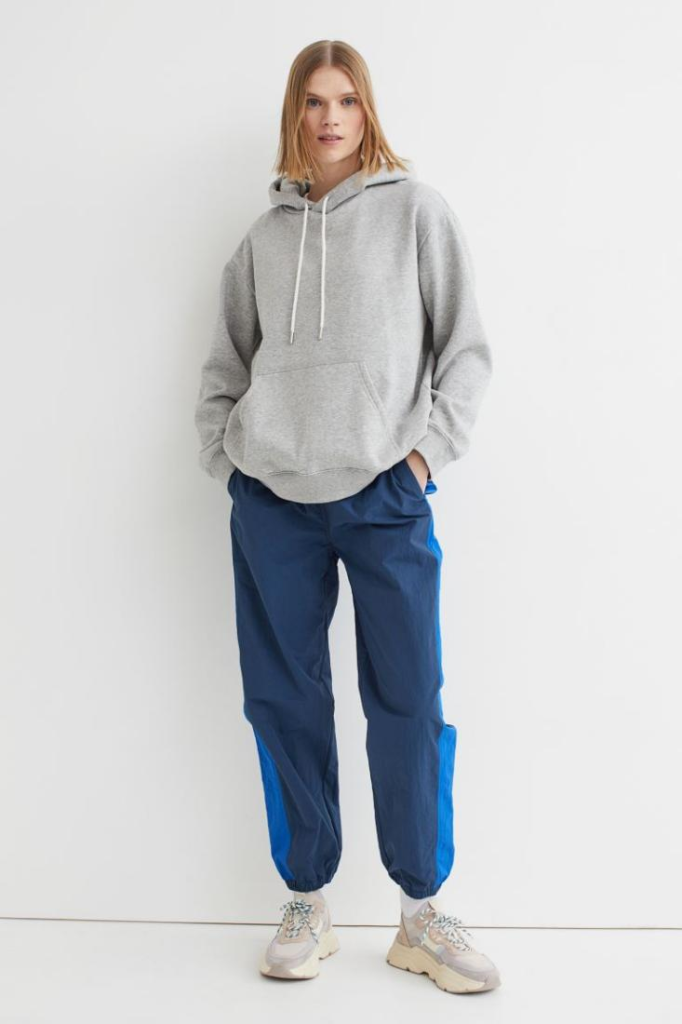 https://www2.hm.com/en_us/productpage.1037049002.html
The bright colors such as blue, fuchsia, green, and red are fabulous, but also the soft and delicate colors, suitable for spring.
As an alternative to the classic tracksuit, sports trousers combined with a simple sweatshirt or pullover are also perfect.
Or again, another solution for mid-season looks for school is jeans, perhaps quite comfortable like mom jeans or boyfriend jeans, to be worn with a sweatshirt. You can choose between plain and monochromatic sweatshirts or sweatshirts with drawings and writings, depending on your tastes.
MIDSEASON OUTFIT FOR THE EVENING, TO BE GLAM WITHOUT SUFFERING LOW TEMPERATURES
Finally, we come to discover the mid-season looks for the evening when the temperatures are still quite cold, but we don't want to give up being elegant and glam! The blazer that we propose to wear with a pair of shorts like Bermuda shorts is back. An alternative to Bermuda shorts can be a mini skirt or a trouser skirt.
Blazer dresses are also elegant and glamorous, such as draped blazer dresses or satin ones.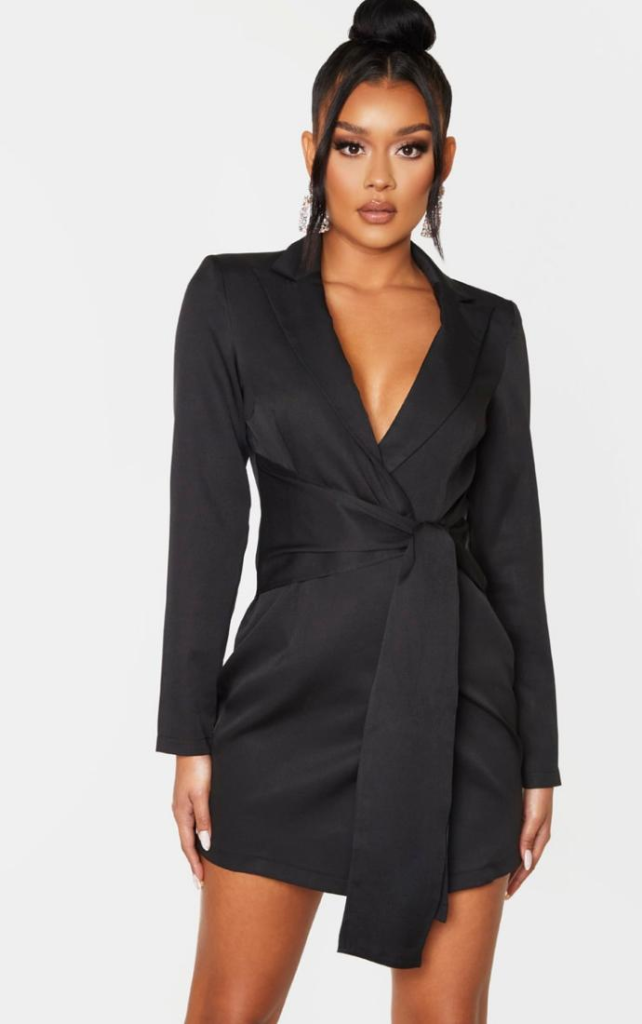 https://www.prettylittlething.us/black-wrap-detail-blazer-dress.html