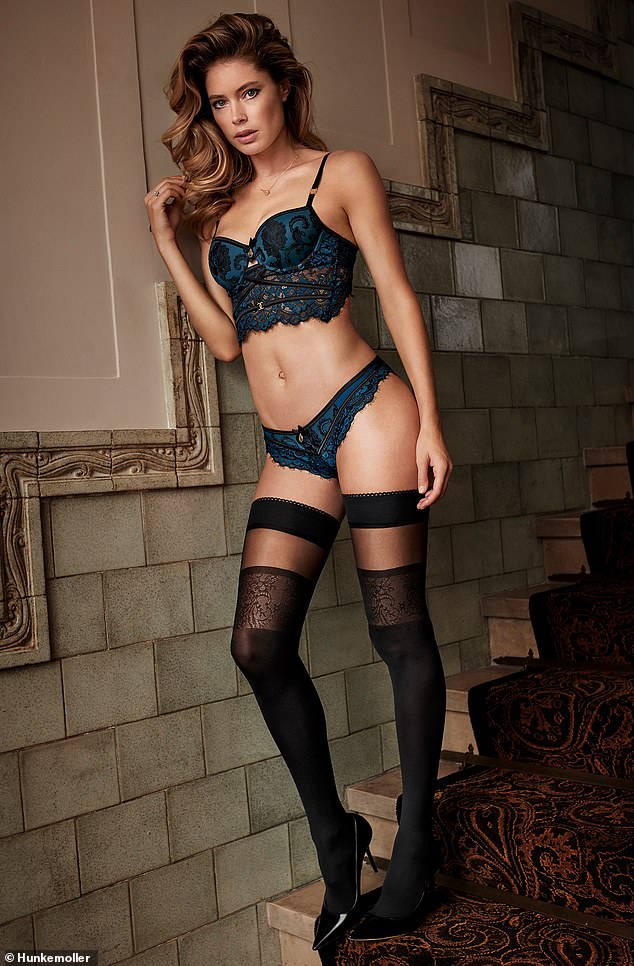 For the coveted brand Victoria's secret, she emerged in a vibrant lingerie storm.
Doutzen Kroes brought her sensational figure to another major lingerie collection as she took off and imitated Hunkemöller's hot new Stories collection.
The beautiful woman, 33 years old, marched in her latest series of trailers with some sexy lingerie to parade her famous characters, exudes sexy charm.
A steaming snap shows the two children's stunners especially with her husband Sunnery James – a green and black lace and low-rise briefs that show off her seesaw.
Doutzen wore a playful stocking and made a provocative look at the camera while resting on a stylish stair railing.
Other shots show this model – who was born in the Netherlands, the brand was also founded here – to raise the heat to a higher level.
Doutzen wears stunning black and cream lingerie with lace tops stockings and slings for even more incredible images.
The stunning blonde shows her pink leather on a lace belt while holding the mirror gracefully and seductively.
Keeping stockings, Doutzen switches to a halter bra suit and adds a stunningly coordinated high waist sling as she shows off all the incredible numbers of her glory.
In the last photo, this beauty is designed with a sexy camisole and briefs in a nude and black floral lace V-neck design with a full satin design.
In an interview with FASHION magazine recently, Doutzen claimed that she was "very lucky" to have such an incredible character at birth because she discussed her success in the modeling world.
She also admits that the fashion world is completely different from what she had at the beginning, and young models are now in a dominant position.
"When I started, the [fashion] industry was more interesting, not computational," she explained.
"Now, everyone knows everything because of social media – all these 15-year-old girls know all the big photographers and fashion designers."
Doutzen made his debut in 2005 after being selected as Vogue.com's "Model of the Year" and was named Victoria's Secret Angel in 2008.