There are several kinds of rings that we grow fond of like girls. When we age, our taste for rings changes based on our lifestyle and our love for luxury goods. Rings are an accessory that adds glamour to any outfit. The sparkle and the design of the ring always make a difference. It's an effortless yet powerful statement of who and what you are. From the chicest vibe festival concert boho ring to the most glamorous sparkly diamond engagement ring, girls always want to flaunt their jewelry rings. You'll never look underdressed whenever you are wearing your statement or sentimental ring with you.
Choose your ring from the 5 kinds of rings and I'll tell you who you are. You can continuously cherish valuable moments by wearing a particular type of ring that suits your personality or your age group:
Alphabet Ring
Haoze Initial Letter Ring for Women Girls Gold Stackable Alphabet Rings with Initial Adjustable Crystal Inlaid Initial Rings Bridesmaid Gift
Wearing an initial ring or an alphabet ring gives a sense of enchantment & mystery to the observer. An alphabet ring is very personal and symbolic so wearing this brings a lot of charm & mystique to the wearer. Giving this to the person you love is symbolic and gives it a sense of valuable attachment because of its personalized touch. The giver and the recipient automatically have a deep connection through this sentimental ring. This alphabet ring is for all ages as this is a wonderful & thoughtful gift that has so much personal touch. It gives so much sentimental value to the wearer or the recipient. This is a great gift to daughters, mothers, friends or simply to yourself because the ring is an extension of your identity. Surely, this would add an elegant touch to your everyday wear or date outfits. Indeed, this exudes timeless elegance and gives only a subtle hint of who you are. I just love the added cubic zirconia too which adds a sparkle to this stylish piece. This can be an ice-breaker too from someone who wants to get to know you. One could say, "I bet your beautiful name starts with the initial on your ring and I would love to get to know you." What an opening statement for a suitor right?! You might want to explore this option if you are interested in a girl.
Fidget Ring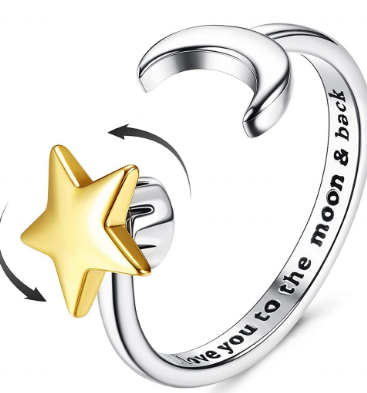 When you are the type that easily gets anxious and wants to fidget on stuff then this ring will serve a dual purpose. Looking stylish has never felt this effortless with this sterling silver ring where you can turn and spin the star 360 degrees. And it has a sweet secret message too that reads "love you to the moon & back." Truly, this is a unique gift that kids and kids at heart would love to have. This is perfect a gift for your sweetheart too which can serve as a simple promise ring that you will love her forever. I just love how unique and creative this fidget statement ring is because if you need something to play with or distract you with to calm your nerves then this is it! What an iconic piece to have. It's so stylish and a sweet ring to give to your loved one.
Birthstone Ring
I just love colored birthstone rings because the gemstones are so unique and sophisticated to wear. The brilliance and spark are just amazing. It makes anyone look regal and dressed for the occasion. Wearing your gemstone is believed to have healing properties and can bring good luck and good fortune. Birthstone rings can also be passed on as legacies and as gifts. Wearing birthstone rings can also attract positive energy. Your fingers will be the center of attention as birthstones are instant scene stealers with their color and spark. This is also an awesome gift to give in more formal occasions and milestones to celebrate and remember. No one would say no to these types of rings. What a beauty!
Amazon Collection Sterling Silver Five Stone Gemstone Bypass Ring
Boho Retro Stackable Rings
When you are the type of girl who loves to attend Coachella or club gigs or music festivals then surely you can't say no to wearing stackable rings for that cool and quirky vibe. This is usually worn by teens or those girls who want to add a little extra attitude, flavor & spunk by wearing stackable rings. This will certainly spice up your overall look. Surely, as you dance to the tune or play musical instruments, your fingers won't go unnoticed! What an eye-catching finger alright. It would be the talk of the town. Who knows a suitor might notice these interesting rings too and can be interesting topics to talk about.
FUTIMELY Boho Retro Stackable Rings Sets for Teens Girls Women, Peak Sea Wave Compass Turquoise Rhinestone Knuckle Joint Finger Knuckle Nail Ring Sets
Engagement Ring
Every girl dreams of a man kneeling on one knee and popping the question 'Will you marry me?'. When that day comes, you hope that you'll love your ring no matter how it looks as the love of your life chose it for you. The size of the carat, the cut, the shape, and the brilliance are all crucial in making your dream engagement ring come true. You can drop hints as to what types of rings you want as you converse normally so he can hopefully take note of your type if he pays attention. Engagement rings are usually so eye-catching and stunning that you get so mesmerized by every bride-to-be wearing the ring. Truly, this ring is one of the most important rings a girl would love to have because it is a commitment and a promise from her loved one that he wants to spend the rest of his life with her.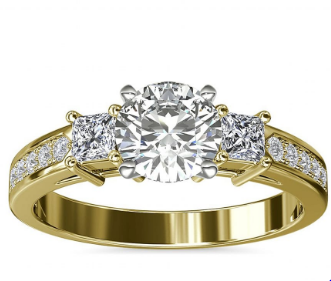 Every ring is a reflection or a glimpse of every stage in your life. As you grow older and mature more, these rings become more sentimental and more valuable because every ring has a story behind it. Let's put a ring on it as a ring is more than just a bling! It's an extension of oneself and creates a deep connection to the giver and the recipient. Girls would always love to flaunt these stylish and elegant rings.