Chanel bags are classic and a timeless wardrobe staples. There are only a handful of brands that rival Chanel when it comes to purchasing them as an investment handbag. The classic flap bags increase in value over time.  This designer brand retains its value incredibly well and because they raise the bag prices every 6 to 12 months, Chanel usually keeps their designs the same. Why is the Chanel bag worth the investment? Although the initial price tag can be daunting, you are guaranteed to get your money back when you sell it in the future.
With the new versions of the classics coming out faster than you can say Jack Robinson and also the exciting one-off pieces, it just makes us want to own a Chanel bag even more. When you decide to invest in a Chanel bag, do you know which one is right for you? Due to the high price tag and the variety of styles available, the decision to buy can literally give you sleepless nights. You would want to be sure you are making a decision that you will be happy with. Many women like to buy the classic Chanel 2.55 flap bag as this iconic piece was the first one created by Coco Chanel in 1955 and has been given a revolutionary take on the classic design.
Which Chanel Bag Style Will Go Up In Value
Here is a guide to help you navigate your first Chanel bag purchase. You may want to consider the style, leather, chain length, and color before investing in a bag. There are several core Chanel styles and if you want a bag that will be a safe, long-term investment then you may want to choose the classic flap bag.
Classic Bags
The classic bags come in different sizes such as extra mini, mini square, small, medium, jumbo, and maxi. The most popular size is the medium. The newer version of this bag has a double flap with one small flap inside the bag. Some women prefer a single flap as it is lighter.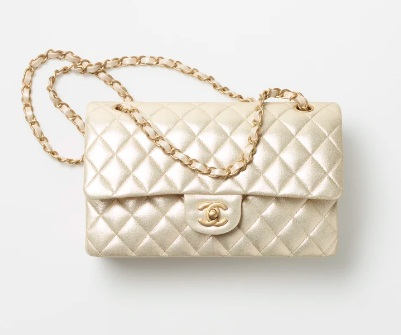 Image – https://www.chanel.com/us/fashion/p/A01112B07575NH168UNI/classic-handbag-metallic-lambskin-gold-tone-metal/
Chanel 2.55
As mentioned above, Chanel 2.55 is the first bag by Coco Chanel and was released by Karl Lagerfeld in 2005. It is a timeless bag that is more popular in Europe than in America.
Image – https://www.chanel.com/au/fashion/p/A37590Y04634C3906/maxi-2-55-handbag-aged-calfskin-gold-tone-metal/
Chanel Boy Bag
This is a more modern, street-style take on the classic flap bag. The Chanel Boy Bag is one of the most popular bags right now. Released in 2012, it was created based on Coco's boyish attitude.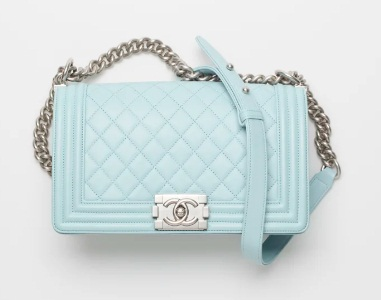 Image – https://www.chanel.com/us/fashion/p/A67086B07521NG752/boy-chanel-handbag-calfskin-silver-tone-metal/
Chanel Gabrielle
The Gabrielle Bag is made to pay homage to Madame Coco. Did you know that Coco Chanel's real name is Gabrielle? This is the perfect name for a bag that has all the codes of Chanel. The Gabrielle bag was inspired by Virtual Reality Goggles and vintage binocular cases that men wear at the racecourse. There are multiple ways to carry the bag, either sling it on the shoulder, throw it over the shoulder, or wrap the chain to turn it into a tote. This collection is very unique because of the different shapes available such as a backpack, a hobo, a tote bag, and a drawstring edition.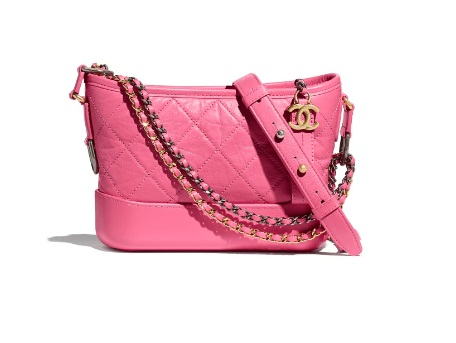 Image – https://www.chanel.com/us/fashion/p/A91810Y614775B648/chanels-gabrielle-small-hobo-bag-aged-calfskin-smooth-calfskin-gold-tone-silver-tone-ruthenium-finish-metal/
Chanel Wallet On Chain
This design is more similar to the Classic Bag. It made its appearance during the Cruise 2022 Collection. This bag is a must-have. It is distinctive and the design is new. The front part looks exactly like the Classic Bag featuring a curved flap and a fitting-sized CC logo. It is also diamond quilted to look incredibly chic. The Chanel Wallet On Chain can be worn crossbody or on the shoulder.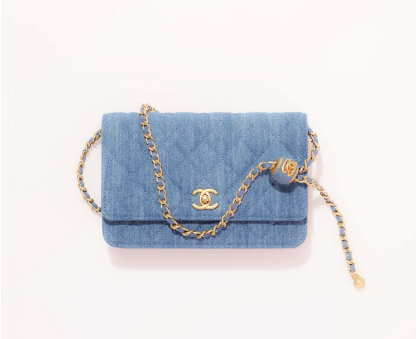 Image – https://www.chanel.com/us/fashion/p/AP1450B07306NG353/wallet-on-chain-denim-gold-tone-metal/