We say yes to emancipation.
We say yes to gender equality.
We say no to stereotypes.
But…
 I will be unpopular but in my opinion, deep down, most girls dream of wearing the white dress. Even I, who consider myself cold, cynical, and non-traditional, must admit that when I look at the windows of wedding dress shops, I am enchanted and I imagine myself wearing one. While not close to a choice, I have very clear ideas about the type of dress I would choose to wear on my wedding day. I really love dresses with sensual lines but with a retro taste. I really like French lace and wedding dresses that are reminiscent of Sicilian ones from the early 1900s.  
The Pronovias brand has designed one that fits my tastes a lot:
A triumph of tulle and embroidery, with a subtle but deep neckline that opens along a delicate train, adorned with lace. The veil also edged with lace, frames the face enhancing the hairstyle which, as in this case, is simply collected but effective.  
The sinuous line enhances the bride's body making everything very feminine and sensual. But, precisely because wedding dresses are dreams, I do not hide from you that despite having my preferences, I do not disdain models that are also totally different from the one I have just shown you. For example, I loved one of the dresses proposed by Atelier Emé.
Bateau neckline for a dress embellished with rebrode lace, with the back jagged with flowers. The dress is adorned with lace with a floral gothic design that creates scallops on the sleeves and hem. As simple as this dress may seem, the lace design makes it unique and sophisticated, as well as extremely elegant.
As you can see so far my preferences have been directed towards dresses with a mermaid fit, but when I look at other models, more princely, I am equally enchanted.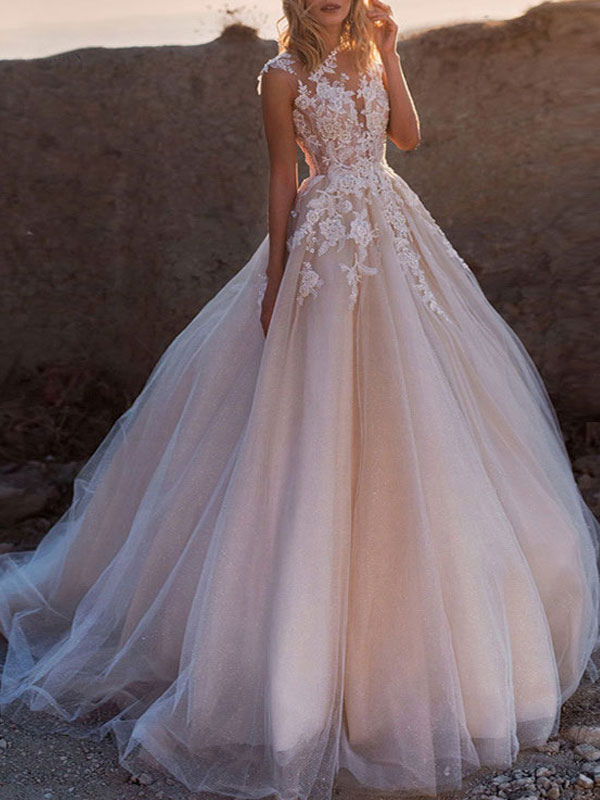 Also in this case a neckline adorned with floral embroidery that rests on a wide tulle skirt.
Just to give prominence to the skirt, the length of the train is reduced to a minimum.
And finally still a fourth model, different from those previously shown, that is with the skirt that is a cross between the slim and wider models.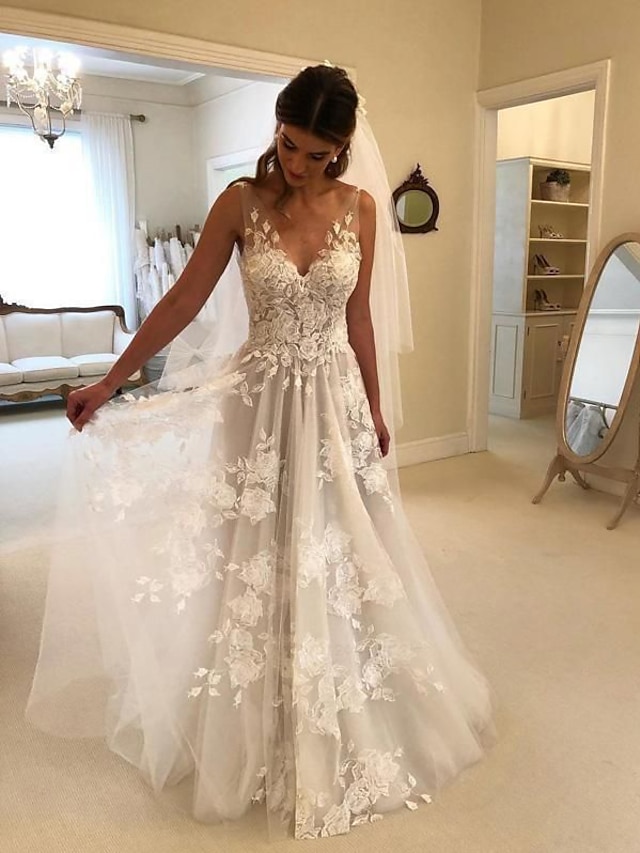 The latter is a very romantic dress, with a mix of tulle and lace that embellish it. The neckline and wide straps perfectly wrap the decollete, giving this dress a breathtaking fit, despite having no train. Personally, I believe that it is necessary to maintain sobriety with accessories, which are therefore shoes, earrings, necklaces, or bracelets, and to give maximum prominence to the dress; because if it is true that with accessories we can be daring throughout our life, the wedding dress is worn for just one day, one of the most important!
Well, girls … I confess that scrolling through the writing of this post I daydreamed, and made me want to wear one! What about you?
See you in the next post!