Diamond nails are all glitz and glamour. They are the inspiration from the celebrities and look so attractive. These are instant mood boosters. These attention seeking nails are other girls' envy and your pride. Nowadays, nail art is a huge trend and has been developing so fast. Every single day you will find some beautiful and creative nail art on social media and fashion industries alike. You may feel glamour and elegance is all about carrying different stylish or expensive accessories like bags, shoes or wearing a fancy expensive dress. But trust us when we say nails also play and important part these days. Flaunting diamond nails is the ultimate in fashion industry.
Solid jewel colors are always on trend during autumn and winter, but today we are here to share some glamorous nails for the season. Getting diamond nails done can be quite expensive and delicate. But these are worth it. And when you can do it yourself at home, you can save a lot of money.
We highly recommend getting diamond nails at least once, and you will be smitten by the look of your nails. Having diamond nails in autumn, will certainly brighten your day. If you are unable to do it yourself there are some faux diamond nails available which you can easily put it on. Besides the artificial nails there are some beautiful rhinestones available that you can incorporate very easily in your nail art. We are sharing some inspirations for you to try the trend this season.
This is an easy to do manicure. The diamond powders are gaining popularity due to the ease of using them. You just sprinkle the powder over your wet nails and viola, it is done.
Deep reds are one of the popular colors for fall and autumn. Some added bling will lighten the dull cold nights. Besides it is an easy one to do it yourself.
We are loving the press on nails and the convenience of using them. These last on the nails longer, if you take good care of them. The mix of design looks pretty and attractive.
What speaks better than the nails below as pure diamond nails. With all the shine and glitter of the diamonds, these will make you feel like a celebrity. Absolutely gorgeous and stunning. You need to try these for us.
This textured shimmer polish will add a similar amount of glam and glitter to your nails without any effort. The Chunky glitters already look like diamonds and if you don't want to go through the whole process of doing your nails. It is a great option. The holographic glitters with shifting colors like silver, teal, pink reflect beautiful when light hits.
Another natural looking diamond nails for the coming autumn. Aren't these gorgeous. I bet you are craving to put them on your nails.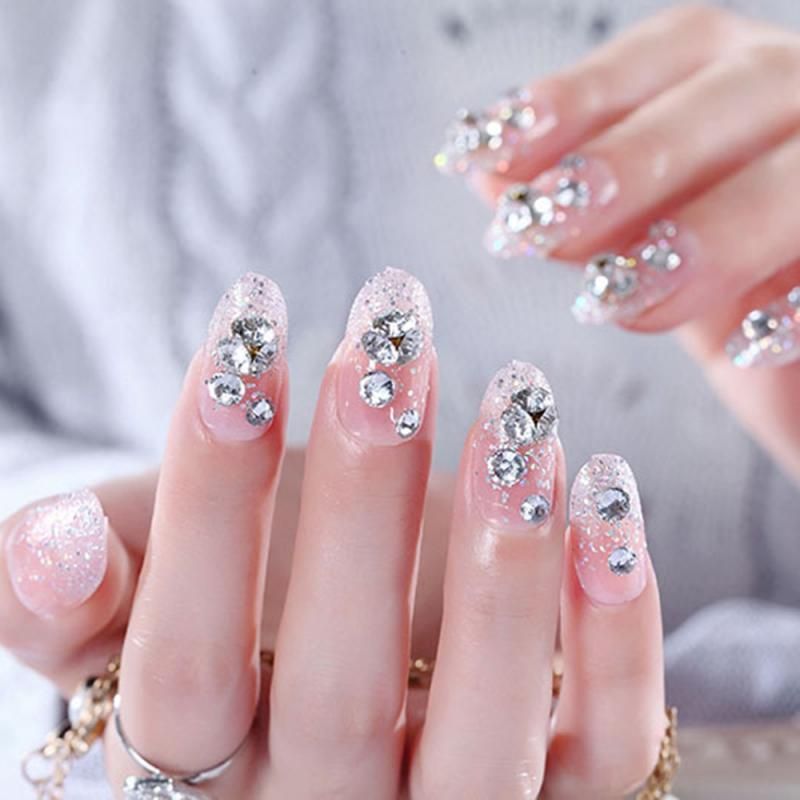 Hope you have found some great inspiration to rock the diamond nails trend and make your autumn more lively, bright and beautiful.