Tropical vacations are the best as they allow you to recharge, relax, and take some time away from the hustle of daily life. But packing for a vacation is an anxious task in itself. Make sure you have a beach bag to carry at all times. Some must-have products for a tropical vacation are sunscreen, a foldable sun hat, packing cubes (trust me, they're the best thing ever for a break), a travel towel, polarized sunglasses, and virtual reality devices.
When it's about some fun in the sun, you are likely to spend most of your time outside in the water and sun. You don't need a lot of items, so pack things that you can mix and match with your swimwear. Some bright pieces, neutral basics, breathable fabrics, and lots of bikinis sound so much fun.
What is the best Clothing Material for Tropical Climates?
It is a general thing that the best fabrics for tropical climates are made of cotton or linen. Avoid polyester as it is uncomfortable for that climate. The weight of the cloth should be light. Since light fabrics dry faster, it helps with sweat. The general misconception is wool is only suitable for winter weather, but the truth is lighter weaves of wool suit hot weather.
Instead of wearing heavier cotton-like twill, which the jeans are made of, choose seersucker, poplin, and madras cotton. Cotton dress shirts will be more relaxed than shirts of heavier Oxford weaves. It is essential to allow air circulation to maintain a cool body temperature.
The fabrics for hot climates should maximize airflow, allowing moist air and heat to escape.
Natural fibres soak the moisture better from the skin and allow the moisture to evaporate from the outer surface. Every lightweight fabric is not breathable. Always go for cotton and linen. They are breathable and good at absorbing moisture.
Floral Printed and Sundress
A floral print dress is perfect for any event. This outfit is best for beach and party nights in a hot tropical climate. You can wear it over a bathing suit, and it can also be worn to formal summer occasions. The breezy skirt and sundress style floral print magnify the summery appeal. The strapless shirred design creates a memorable vacation look.
White Looks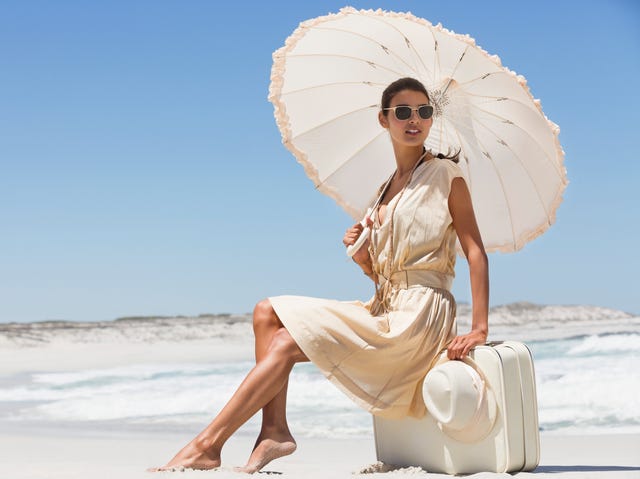 White is the best colour to wear on a tropical vacation. Whether it is a poolside party, headed to a beach for fun, or an elegant tropical wedding, a white dress will show off your sun-kissed skin. You can wear white shirts, dresses, cord sets, and more. On a sultry day, a white outfit is a perfect look.
Swimwear
Swimwear and tropical vacation is the perfect blend. Pack high-waisted two-piece, one-piece, and cover-ups. High-waisted bikinis hold everything in, and it's a great option if you plan to spend the day lounging. A one-piece is a must-pack no matter where you are travelling to. It provides more coverage and is excellent for activity-heavy days.
Pairing denim shorts and swimwear with a cover-up is the go-to look in a tropical environment. They dry faster, are easy to change in and out before getting in the water, and are comfortable to wear.